Infinite possibilities
in Saarbrücken's most exclusive sauna club
We have set ourselves the task of providing an exclusive, all-around feel-good service and combining this with the most beautiful pastime in the world. The unbeatable range of spa facilities, including relaxation opportunities, saunas, steam baths, cosmetics, medical massages and fine delicacies from the restaurant, combined with thrilling eroticism, will carry you off to a luxurious, carefree paradise. You can spend time in an invigorating steam bath, have cool refreshments in the Temple Bar or enjoy one of the many erotic shows.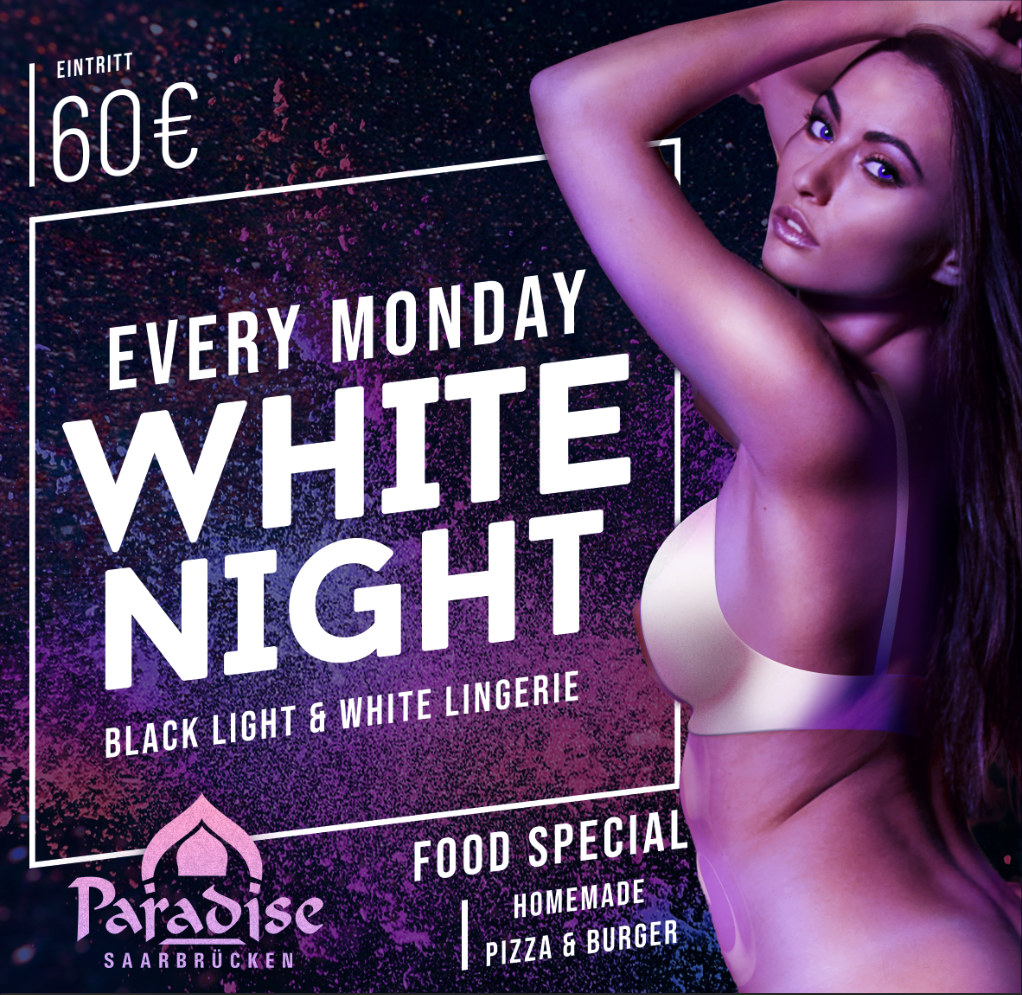 Regular events ensure there is a hot nightclub atmosphere. With a total of more than 30 rooms, the naturist club in Saarbrücken provides you with ample space to enjoy a frisky, wellness & pampering day with any number of erotic advantages. The Saarbrücken sauna club also has its own erotic cinema for real pleasure seekers, which includes discreet private rooms as well as four whirlpool suites and king-size beds.
It goes without saying that the entry price for the FKK sauna club in Saarbrücken includes wellness accessories, hand towels, toiletry items as well as beer and non-alcoholic beverages from the bar.
Otherwise all other offers are included, except for the pleasures with any of the 50 enchanting naturist ladies who work exclusively on a freelance basis. Smokers are also free to enjoy the royal service, since we have set up a noble cigar lounge especially for you.
Arrival, parking, overnight stays
all-round service for every guest
You don't need to worry about parking. The naturist club in Saarbrücken has free parking spaces available for you. Furthermore, it doesn't matter where you come from, since everyone is welcome at the Saarbrücken sauna club.
Regardless of whether you come from nearby Trier or Neunkirchen, or if your trip from Kaiserslautern, for example, took a little longer – we will make your visit as pleasant as possible and will also be happy to arrange an overnight stay. Pay us a visit, and experience our constantly changing offer of spa, pleasurable and pampering possibilities for yourself. Nothing is impossible in the Paradise Naturist Sauna Club in Saarbrücken. We are the erotic jewel in the crown of the Saarland and look forward to welcoming you as a guest in the near future so that you can be seduced by all of our temptations.